Yesterday was the deadline for Danny Tarkanian's charity, Tarkanian Basketball Academy (TBA), to turn over legally required tax documents in response to a public request. Nevada resident Jennifer Rohrbach requested TBA's 990 tax forms in person, by email, and by certified letter on October 1, 2018.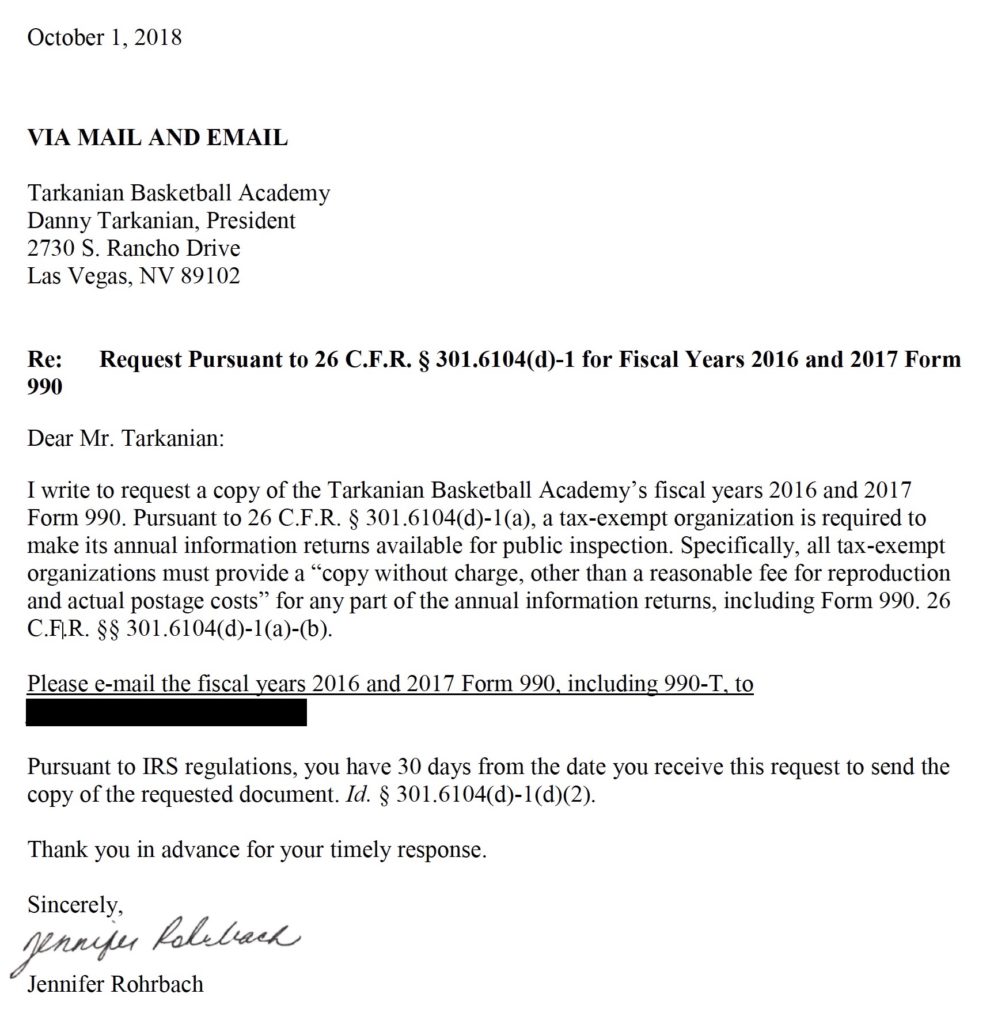 Charities are required to submit 990 forms to the Internal Revenue Service to justify their non-profit status, and required to make their 990 forms available to any member of the public who asks to see them. TBA has refused to turn over 990 forms from 2016 or 2017, and has said that they have no copies of 990 forms available, despite the federal legal requirement.
TBA's 990 forms have shown in the past that Danny Tarkanian has taken more than $700,000 from the children's charity, including $40,000 that he funneled from the charity to one of his campaigns. The Dean Heller campaign has detailed Tarkanian's excessive salary and mismanagement of TBA:
"[Tarkanian] paid his mortgage with money from a children's charity. And that's not all Danny Tarkanian has taken from his children's charity. Documents show he has paid himself over $660,000 in salary from his children's charity since 2005, and his salary has been as high as 25 percent of the charity's annual budget – even when the charity ran major budget deficits – Danny took six figure paychecks."

It is impossible to determine what Tarkanian's compensation has been over the last two years without these public documents.
Last week the Review Journal published a letter from a former employee of Tarkanian Basketball Academy who laid out Danny's exorbitant salary and charged that "Danny Tarkanian is not being honest about the charity that he has abused for personal gain."
The FDIC, a federal agency, summed up Danny's salary practices, pointing out that Danny "has elected to pay himself between $100,000 and $120,000 per year, based solely on his subjective judgment […] he simply writes himself a check whenever cash flow permits." The FDIC concluded, "Upon information and belief, such distribution of profits violates applicable provisions of the Internal Revenue Code."
Nevada resident Jennifer Rohrbach released the following statement:
"I have heard Danny Tarkanian bragging about his work with this children's charity, and I wanted to see for myself, and see how much he is personally profiting. Charities are required to show you their 990 forms, so I was shocked that they refused to let me see them. If Mr. Tarkanian has nothing to hide, nothing he's ashamed of, then why won't he turn over these documents?"
###