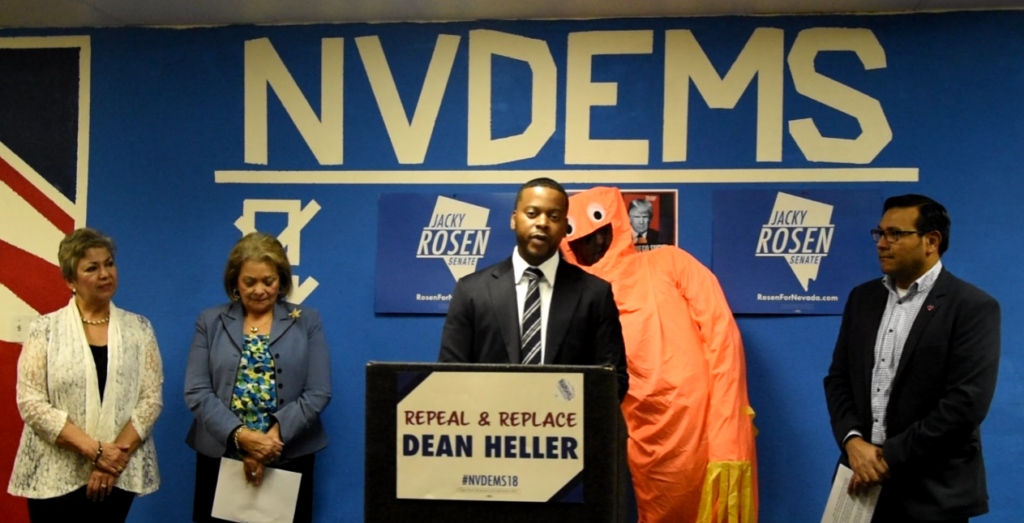 **Watch video of the press conference here**
Ahead of tonight's U.S. Senate debate, Nevadans highlighted Sen. Dean Heller's record of breaking his promises and repeatedly opposing, attacking, and failing to stand up for Nevadans' health care and protections for people with pre-existing medical conditions. Chairman William McCurdy II and State Senator Pat Spearman were joined by Jorge Silva of the Latino Victory Project, Nevada doctor Jose Partida Corona, breast cancer survivor Astrid Guzman, and other Nevadans to call Senator Heller out for making promises in Nevada and turning around and breaking them as soon as President Trump and Mitch McConnell pressure him to fall in line.
"After just a few weeks of pressure from Donald Trump and Mitch McConnell and his billionaire campaign donors, Heller flip-flopped and voted for a bill that threatened health care for hundreds of thousands of Nevadans," said Chairman McCurdy. "Heller broke his promise to all of us to protect Nevadans' health care, and he deserves to lose his seat. Whether you're a cancer survivor or have asthma or have a loved one with a pre-existing medical condition or rely on Medicaid expansion, Dean Heller let our state down for his own short-term political gain."
"As a breast cancer survivor, I understand how medical expenses can be overwhelming for people who are already going through an extremely stressful and emotional time," said Astrid Guzman. "People battling cancer or other life-threatening illnesses should not have to worry about battling insurance companies or their own political leaders, and getting treatment shouldn't lead to bankruptcy or financial ruin. We need Jacky Rosen in the U.S. Senate because she will never waver in ensuring we maintain protections for people like me who have a pre-existing condition."


Watch video of the press conference here.
###