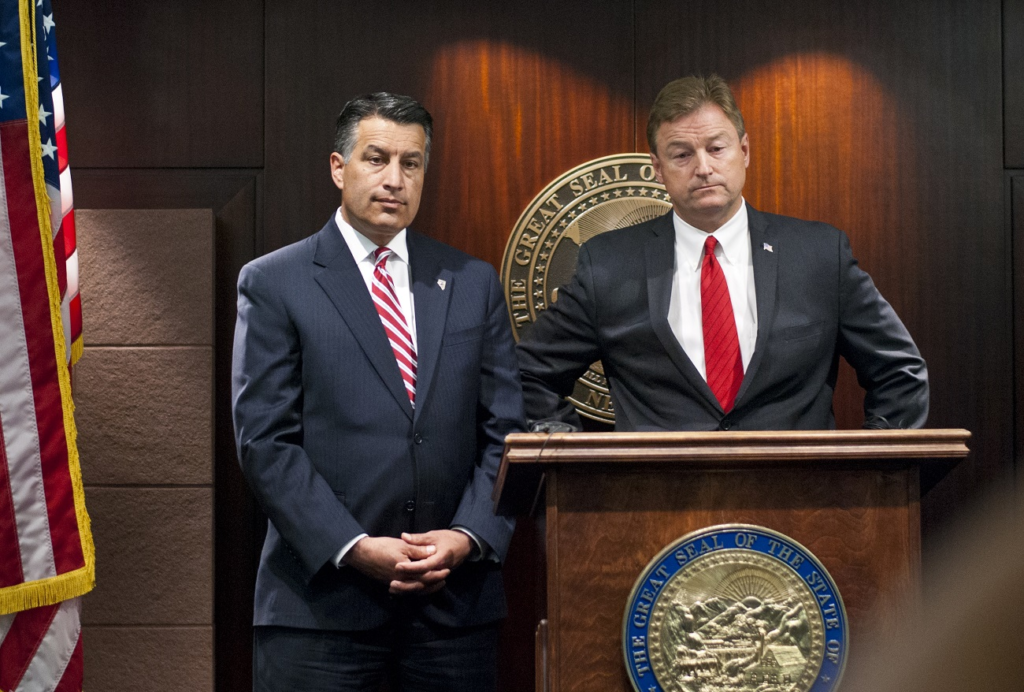 Earlier today, Sen. Dean Heller's campaign released an ad touting Gov. Brian Sandoval's support, but something is missing… The ad conveniently leaves out Heller's broken promises to Nevadans by repeatedly breaking with Sandoval on health care and supporting legislation that would take health care away hundreds of thousands of Nevadans. Fortunately, the Nevada State Democratic Party is here to fill in the holes.
A brief timeline of Senator Spineless' broken promises to stand up President Trump and protect Nevadans' health care:
In June, Heller appeared with Sandoval at a press conference promising he would not support legislation unless the governor signed off on it. Heller said: "If you want my support on legislation…you have got to make sure that the Republican governors that have expanded this Medicaid will sign off on it."
Wait wait! Just weeks later, Heller was summoned to the White House where he sat next to Trump as Trump said: "This is the one we were worried about. You weren't there, but you're going to be… Look he wants to remain a Senator, doesn't he?"
And despite Sandoval's opposition to the so-called "skinny repeal" plan, Heller caved to President Trump and Republican Party leaders, breaking his promise to Nevadans by voting for a plan that would spike premiums and cause millions of Americans to lose coverage.
Fast forward to September. Knowing he committed the biggest broken political promise in modern Nevada history, Heller kept digging deeper by co-sponsoring the Graham-Cassidy-Heller-Johnson repeal and replace plan. Once again, Sandoval opposed the plan, saying it will "pit seniors, children, families, the mentally ill, the critically ill, hospitals, care providers, or any other Nevadan against each other because of cuts to Nevada's healthcare delivery system." Heller's plan would have resulted in 243,000 Nevadans losing health care coverage.
Nevada State Democratic Party spokesperson Sarah Abel released the following statement:
"By ignoring the elephant in the room, this ad is a clear and desperate attempt to paper over Heller's broken promises on health care he made to Governor Sandoval and Nevadans across our state. Recent polling shows health care continues to be the number one issue for Nevada voters and Dean Heller wants us to forget about the hundreds of thousands of Nevadans he betrayed when he caved to the political pressure of Republican party leaders in Washington."
###