Heller yesterday: "It is my hope that… other senators will come to the conclusion that I have reached and
support Judge Kavanaugh's nomination
"
Heller previously dismissed credible allegations of sexual assault as "
a little hiccup
" in Kavanaugh's confirmation
Nevadans gathered outside Heller's office to protest his unwavering support for Kavanaugh, "women shared their own stories of sexual assault"—
AP
After Dr. Christine Blasey Ford bravely testified in front of the Senate Judiciary Committee and the Senate agreed to delay a floor vote vote pending a supplemental FBI investigation, Republican Sen. Dean Heller released a statement expressing unequivocal support for Kavanaugh—regardless of what the FBI finds:
Reno Gazette-Journal: Heller backs Kavanaugh, and Trump-ordered FBI probe, as drama unfolds on Capitol Hill
"U.S. Sen. Dean Heller, R-Nev., is sticking by embattled Judge Brett Kavanaugh, reiterating his support for President Donald Trump's U.S. Supreme Court pick in a statement issued hours after Trump ordered a week-long FBI investigation into accusations of sexual assault leveled at the judge. 'It is my hope that after this additional week, other senators will come to the conclusion that I have reached and support Judge Kavanaugh's nomination,' Heller wrote."
Nevada women and men are standing with Dr. Ford, and have been protesting in front of Heller's office—urging him to take her testimony seriously, stand with Nevada women, and vote against Kavanaugh's nomination:
KVVU Las Vegas: Protestors opposing Kavanaugh gather outside Heller's office
"Protesters gathered outside the offices of Senator Dean Heller here in Las Vegas this afternoon to protest Judge Brett Kavanaugh and the Senator's silence on the controversy."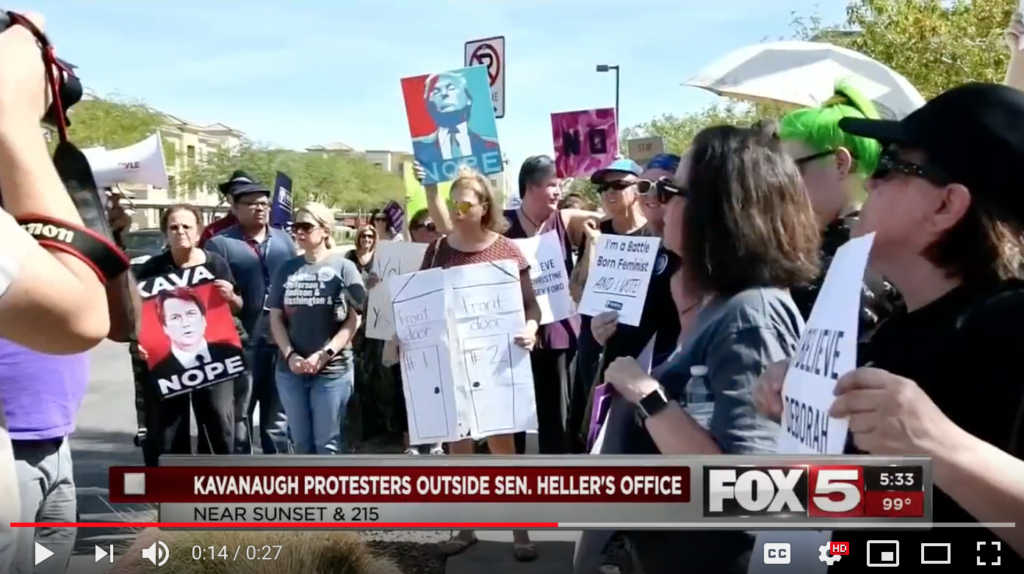 AP: Anti-Kavanaugh protests outside Nevada Sen. Heller's office
"More than 60 people have gathered outside a Las Vegas building that houses the office of Republican U.S. Sen. Dean Heller to protest against the nomination of Judge Brett Kavanaugh for a seat on the U.S. Supreme Court. Demonstrators on Friday held signs and chanted, 'We believe you' and 'Hey, hey! Ho, ho! Kavanaugh has got to go!' Some women shared their own stories of sexual assault."
KRNV Reno: Reno protesters demand that Kavanaugh withdraws from Supreme Court nomination
"People gathered outside of Senator Dean Heller's office in downtown Reno to protest against Kavanaugh on Monday, September 24. Protesters demanded that Heller call the Kavanaugh to withdraw from his nomination for Supreme Court justice. Sexual assault survivors rallied outside the office sharing their stories and showing support to Dr. Christine Blasey Ford and Deborah Ramirez for their accusations of sexual misconduct against the Supreme Court nominee."
AP: Nevada GOP Sen. Heller backs Kavanaugh, FBI's investigation
"Protester Susan Jackel says she is 'appalled' at what unfolded Thursday during a Senate Judiciary Committee hearing in which Kavanaugh and one accuser, Christine Blasey Ford, testified. Jackel says she believes Ford 'told her truth' and senators 'stomped all over her.'"
In light of Dr. Ford's testimony and other allegations of sexual assault, a new poll shows a majority of voters will hold their Senators accountable at the polls if they jam through Kavanaugh's confirmation.
Axios: A majority of voters say they won't re-elect senators if they confirm Kavanaugh
"A majority of people wouldn't vote to re-elect their senators if they vote to confirm Brett Kavanaugh, according to a new Change Research poll… And people found Dr. Christine Blasey Ford more believable (50%) and credible (48%) than Kavanaugh (44% for both.) 50% of people said they will view the Supreme Court as less credible if the Senate confirms Kavanaugh."
###