Today, The Nevada Independent reported that the FBI and California law enforcement are looking into allegations that Storey County Sheriff Gerald Antinoro, who endorsed Republican attorney general and gubernatorial candidate Adam Laxalt, brought a woman to California and arranged for her to be raped by three men.
As a reminder, Laxalt accepted and touted Antinoro's endorsement despite the fact that his shocking record of misconduct has been public knowledge since at least 2016, when citizens successfully petitioned to recall him over his demonstrated pattern of sexual predation and unethical conduct, including findings from an independent investigation that concluded he sexually harassed his employee and reports of "numerous….more than 10" acts of misconduct against subordinates.
For months, Laxalt refused to answer questions about Antinoro's endorsement, even walking away from a voter who attempted to talk to him. When he was finally pressed on camera in May by KLAS and couldn't run away from the question, Laxalt still refused to denounce Antinoro, dismissing criticism as "political theatrics."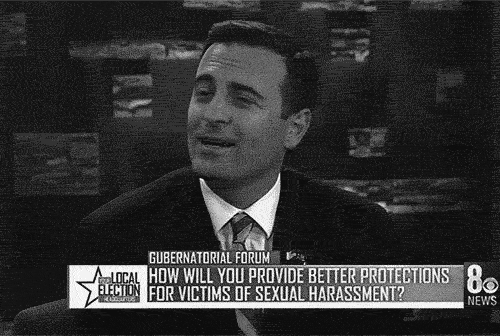 Laxalt's office failed to investigate Antinoro until political pressure mounted from outraged Nevadans demanding answers as to why Laxalt continued to protect a predator. In July, the Reno Gazette-Journal reported that Laxalt closed an investigation into his political ally, alleged rapist and admitted sexual harasser Gerald Antinoro, and declined to pursue criminal charges. Laxalt also quietly deleted the webpage touting Antinoro's endorsement from his campaign website, then issued a terse statement claiming he will not recognize Antinoro's endorsement nor campaign with him.
Nevada State Democratic Party spokeswoman Helen Kalla released the following statement:
"After Adam Laxalt's sham 'investigation' into his buddy Sheriff Antinoro failed to produce charges against a known sexual predator, Antinoro is now under investigation by California police for allegedly orchestrating a gang rape. While Laxalt pays lip service to protecting women from abusers, he's let his political ally off the hook over and over again. When Nevada women vote this year, they will remember how Laxalt failed to protect them from a sexual predator for years."
###