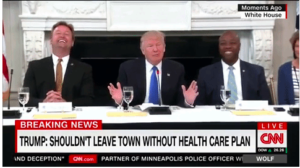 One year ago today, Sen. Dean Heller was publicly humiliated by President Trump on national TV. Just a few weeks earlier, Heller had been standing next to Gov. Brian Sandoval and vowing to protect Nevadans' access to health care. But then President Trump put the pressure on at a White House meeting on the GOP's health care repeal efforts, sending a loud and clear threat to Heller while sitting right next to him and correctly predicting that Heller would cave.
TRUMP TO HELLER: "This one was the one we were worried about. You weren't there, but you're gonna be, you're gonna be. Look, he wants to remain a senator, doesn't he? And I think the people of your state, which I know very well, I think they're going to appreciate what you hopefully will do."
A week after this lunch, Heller broke his promise to protect Nevadans' health care.
Take a trip down memory lane:
KSNV Las Vegas: Heller gets the Trump treatment
CNN: Donald Trump threatened Dean Heller on health care. Heller was sitting next to him.
The Hill: Trump squeezes 'no' vote Heller at healthcare lunch
Business Insider: 'He wants to remain senator, doesn't he?': Trump singles out GOP senator sitting next to him on healthcare bill opposition
RealClearPolitics: Trump to Sen. Heller: You'll Vote For Health Bill If "You Want To Remain A Senator"
Washington Examiner: Trump asks Dean Heller if 'he wants to remain a senator' while sitting next to him
HuffPost: Trump Jokes About Fate Of Vulnerable GOP Senator During Health Care Talks
TPM: Trump Jokes That GOPer Heller 'Wants To Remain A Senator, Doesn't He?'
ThinkProgress: With cameras rolling, Trump tries to bully Republican senator into supporting Trumpcare
Las Vegas Review-Journal: Trump jabs Heller: 'He wants to remain a senator, doesn't he?'