Last weekend, Nevada Democrats attended volunteer summits in Las Vegas and Reno to strengthen their skills as campaign volunteers and learn best practices on how to talk to their fellow voters about electing Democrats up and down the ticket. The trainings were conducted by the NV Dems and the National Democratic Training Committee (NDTC), an organization that offers free in-person and online trainings for Democrats looking to make a change in their community. Democratic U.S. Senate candidate Jacky Rosen addressed the volunteers in Las Vegas on Saturday.
At the free day-long sessions, volunteers were offered in-depth trainings on key campaign skills, including how a campaign works, how to share your personal story, how to talk to voters directly, and how to use social media as a campaign volunteer. This election cycle, the NV Dems have put an increased emphasis on training organizers and volunteers on best practices for voter contact in order to maximize efficiency and effectiveness.
"We're thrilled to partner with the NDTC to offer these specialized trainings to our volunteers," said Shelby Wiltz, NV Dems' Organizing Director. "This cycle, we're seeing unprecedented grassroots enthusiasm from Nevadans who are excited to get involved with the NV Dems to elect Democrats up and down the ballot. The NV Dems are committed to empowering these volunteers with the knowledge and skills they need to make a difference in their community and turn Nevada blue this November."
"We were so excited to partner with the Nevada State Democratic Party to train enthusiastic volunteers from across the state,"  said Pavitra Abraham, NDTC's Director of Live Trainings and Political Partnerships. "By training on topics like sharing your personal story, voter contact, and digital strategies, these volunteers are well suited to engage with voters and help ensure that the Blue Wave washes over Nevada in 2018 and beyond!"
"I wanted to get involved with the NV Dems in order to show the true voice and values of America — inclusiveness and supportiveness of our fellow Americans and citizens of the world," said LaTrina Green, a volunteer who attended the Las Vegas training. "At the training, I learned specific strategies for how to get involved, how to organize effectively, and spread our message to persuade voters and get out the vote. I'm excited to get to work!"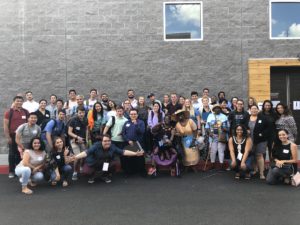 Attendees pose for a group photo at the Las Vegas Volunteer Summit on Saturday, July 14th.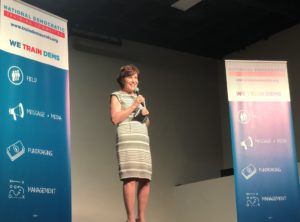 Congresswoman Jacky Rosen, Nevada's Democratic nominee for U.S. Senate, addresses attendees at the Las Vegas Volunteer Summit on Saturday, July 14th.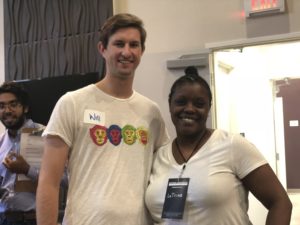 (L-R) Organizer Will Stockton and volunteer LaTrina Green and at the Las Vegas Volunteer Summit on Saturday, July 14th.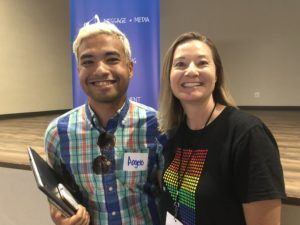 (L-R) Organizer Angelo Ruiz and volunteer Stephanie Alvendia and at the Las Vegas Volunteer Summit on Saturday, July 14th.
###