On Sunday's "Politics Now" on Las Vegas' KLAS, conservative radio host Alan Stock of KXNT blasted Republican gubernatorial candidate Adam Laxalt for repeatedly dodging public events and hiding from voters. From backing out of the NRA's annual meeting earlier this month, to skipping GOP events around the state, to ducking a bipartisan gubernatorial forum last week, Laxalt has been working hard to keep a low profile — and Nevadans are taking notice.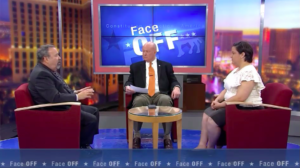 "He didn't show up at the NRA dinner like he was gonna be there because people started [saying], 'Well, the NRA, I don't want to be affiliated with them,' even though he has been. So, a lot of this doesn't ring true, whether it's the NRA or the GOP events he's not showing up at. There was another debate, I believe, that they had, and [all the other candidates showed up] except for Adam Laxalt."
Stock then observes that Laxalt's campaign strategists are deliberately trying to keep Laxalt out of the public eye, because they know that whenever he opens his mouth, he reveals how unprepared he is to serve as governor.
"That doesn't portend well for his campaign — I don't think so. Now, again, his people…they're calling it in a different way than I would…and they're saying, 'You know what, the less I say the better. Let me stay in the background.'"
Watch the full interview here.
###