Adam Laxalt and Wes Duncan, two Republican candidates for statewide office who have yet to condemn the serious sexual misconduct allegations against Steve Wynn, have refused to denounce Gerald Antinoro — the Storey County Sheriff embroiled in scandal amidst shocking sexual harassment allegations that were recently reported by The Nevada Independent.
Gubernatorial hopeful Laxalt and his anointed would-be successor, attorney general candidate Duncan, still prominently display Antinoro's endorsement on their campaign websites. In February, both candidates attended a Storey County GOP event and took photos with the sheriff who is being sued by a former employee after an independent investigation found that Antinoro sexually harassed her.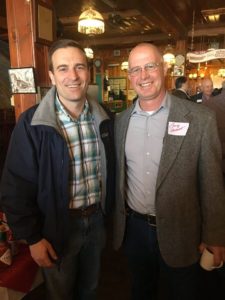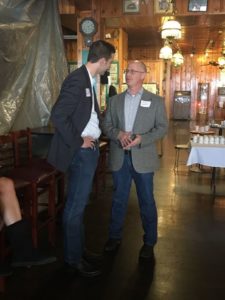 Laxalt (L) and Duncan (R) with Antinoro in Virginia City, NV on Feb. 17, 2018
The former deputy sheriff, a 15-year veteran of the Storey County Sheriff's Department, was fired from her job after filing the complaint. But she was not the first woman to come forward. A Storey County administrator said in a deposition for the lawsuit that "numerous….more than 10" sexual harassment, wrongful termination, or discrimination complaints have been filed against Antinoro since he was elected sheriff in 2010, costing taxpayers nearly $150,000 in settlements.
Attorney General Laxalt was asked to investigate Antinoro for sexual harassment and to "immediately and publicly" withdraw any support of Antinoro. Laxalt responded only to say he sent the complaint to "the appropriate investigative unit" and that he could not confirm or deny the existence of an investigation.
Antinoro's pattern of misconduct, including allegedly raping a woman while on duty, caused a group of Storey County women to file a recall petition in 2016. The recall election was held in April 2017, and failed by less than 300 votes.
Nevada State Democratic Party spokesperson Helen Kalla released the following statement:
"It's appalling but not surprising that Laxalt and Duncan have continued to accept the support of a serial harasser and alleged rapist, considering their silence on other men who've used their power to abuse women. By looking the other way, Laxalt and Duncan are telling Nevada women that they won't fight to keep them safe from abusers.
"The state's top law enforcement officer and the man hoping to take that job should be doing everything in their power to take predators like Antinoro off the streets. Laxalt and Duncan need to decide whether they're going to continue abdicating their duty by protecting this criminal, or stand with Nevada women and reject him wholeheartedly."
###