In an interview with Reno's KTVN yesterday, Republican attorney general and gubernatorial candidate Adam Laxalt claimed that while he's pro-life, he wouldn't "roll back" access to abortion — despite his record of doing everything he can to restrict women's access to reproductive care nationwide. Yesterday, members of NARAL Nevada delivered hundreds of letters to Laxalt's Reno and Las Vegas offices urging him to stop attempting to roll back women's reproductive rights.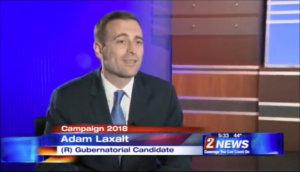 Click the image to play the video.
This year alone, Laxalt has engaged in three separate efforts to restrict access to abortion:
Laxalt joined an amicus brief for a

U.S. Supreme Court case

on a California law in support of allowing so-called "crisis pregnancy centers" to deceive and intimidate women in order to coercively dissuade them from exercising their right to choose.
Laxalt signed onto another amicus brief

defending a Texas law

ruled unconstitutional that would ban the most common second trimester abortion method. The brief argued that "States may pass legislation that shows the State's profound respect for….life….at all stages of gestation," revealing Laxalt's true intentions of passing state laws to undermine legal abortion.
Laxalt

sent a letter

to the Health and Human Services secretary in support of proposed rules that would allow health care providers to refuse to provide abortions and other reproductive care based on religious objections, potentially endangering patients' lives.
In January, The Nevada Independent asked Laxalt his views on whether abortion should be illegal at any stage or just some, parental notification requirements for abortions, mandatory ultrasounds, and mandatory waiting periods. Laxalt responded to all the questions with simply, "I'm pro-life." This month, Laxalt sent out a survey to voters asking whether they were pro-life and if they supported an abortion ban at certain stages of a pregnancy.
Nevada State Democratic Party spokesperson Helen Kalla released the following statement:
"Adam Laxalt is hoping Nevada women will forget all about his anti-choice record because he knows how out of touch he truly is. Nothing Laxalt can say will change the fact that he has used the state of Nevada to fight his radical crusade to restrict reproductive rights all over this country. Nevada women know better than to believe Laxalt's lies, and they won't allow him to bring his anti-women agenda into the governor's mansion."
###