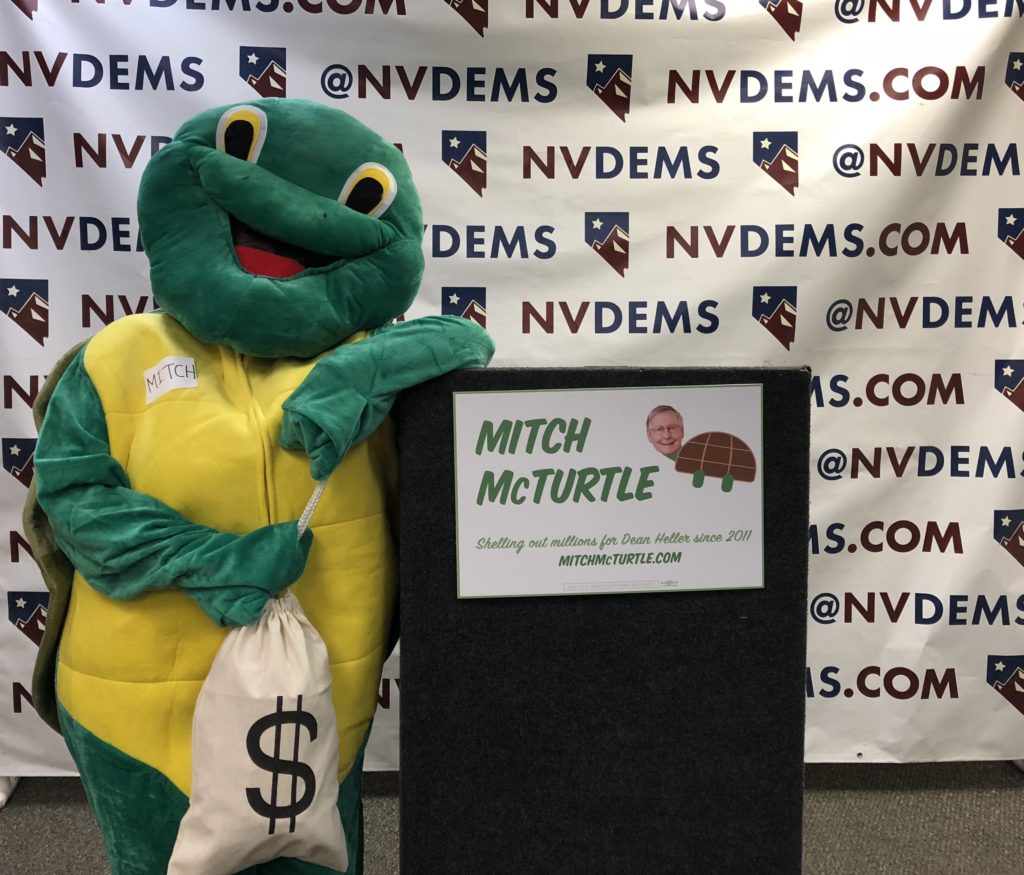 Today, Nevada Democrats unveiled the first official mascot of the 2018 election cycle by introducing Mitch McTurtle. The mascot will target Republican Sen. Dean Heller and is inspired by Senate Majority Leader Mitch McConnell… who has still never proved that he's not a turtle.
Despite trying to disingenuously distance himself in recent weeks, Heller has been loyal to McConnell since being appointed to the Senate in 2011. Heller voted to elect McConnell as Majority Leader and has voted in line with McConnell 90 percent of the time over the past year. In fact, after Heller broke his promise to protect Nevadans' health care, McConnell's Super PAC rewarded Heller with a promise to run millions of dollars in ads.
From the Famous NV Dems Chicken and Decoy Duck, to ethically questionable special-interest friend with benefits Slick, to the Parrots, Nevada Democrats have a long history of using mascots to illustrate how Republican politicians are out of touch with voters. This brand-new Mitch McTurtle mascot honors that tradition, spotlighting how Heller has sided with McConnell at the expense of Nevada's working families.
"The most vulnerable senator in the country has been cozying up to the most unpopular senator in the country, and this relationship is poised to be a major political liability in 2018," said Nevada State Democratic Party spokesperson Sarah Abel. "Mitch McConnell is toxic with voters across party lines, but Sen. Heller has been taking his marching orders from him on everything from health care to the tax bill. Mitch McTurtle will be a regular presence on the campaign trail, reminding Nevada voters that Dean Heller is a Washington politician who serves Mitch McConnell's partisan agenda at the expense of his constituents."
BACKGROUND
August 2017: Heller Announced His Support For McConnell. "Sens. Dean Heller, R-Nev., Johnny Isakson, R-Ga., and Susan Collins, R-Me., also announced their support for McConnell." [NBC News, 8/11/17]
August 2017: Heller On Twitter: I Look Forward To McConnell's Leadership. "@DeanHeller: I look forward to @SenateMajLdr's leadership as we work to reduce Americans' taxes." [Twitter, @DeanHeller, 8/10/17]
McConnell Was Unanimously Elected Majority Leader In 2014. "Senate Republicans have unanimously elected Mitch McConnell to be majority leader… He won a voice vote without opposition and was treated to a standing ovation." [Roll Call, 11/13/14]
Heller Was Present For The 2014 Republican Conference, Because He Was Defeated By Senator Roger Wicker In The Race To Lead The NRSC. "Senate Republicans unanimously named Sen. Mitch McConnell of Kentucky to serve as majority leader when the new Congress convenes in January. […] Senate Republicans also elected Sen. Roger Wicker of Mississippi to chair their 2016 campaign operation. Wicker defeated Sen. Dean Heller of Nevada." [USA Today, 11/13/14]
###