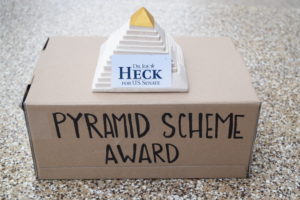 Watch award presentation here
Las Vegas, NV – Today, the NV Dems and Las Vegas seniors visited Congressman Heck's Congressional Office to present him with an award to remind him that 5 years ago this week, he called Social Security a "pyramid scheme" that "isn't working." The seniors reminded Congressman Heck's office that they are just a few of the hundreds of thousands of seniors in Nevada that depend on Social Security to get by during their retirement.
In addition to comparing Social Security to a criminal scheme, Congressman Heck (as per usual) supports his fellow Washington Republicans' agenda for privatizing Social Security and handing over seniors' retirement funds to the Big Banks and Wall Street. Yes, the same Big Banks that caused the financial crisis and forced thousands of Nevada families out of their homes. And, yes, seniors across Nevada and the country could have lost their retirement security if Congressman Heck and Washington Republicans had their way and Social Security was privatized.
"We hope Congressman Heck appreciates this award, but contrary to what he says, the only 'scheme' when it comes to Social Security is his scheme to privatize the program," said Sarah Zukowski, spokesperson for the Nevada State Democratic Party. "Congressman Heck should tell the hundreds of thousands of seniors in Nevada who rely on Social Security for their retirement security that he thinks the program is a criminal scam. Nevada seniors need a problem solver like Catherine Cortez Masto who will fight to ensure that current and future generations can rely on Social Security – not Congressman Heck who wants to put the retirement security of Nevada seniors in the hands of Wall Street."
###